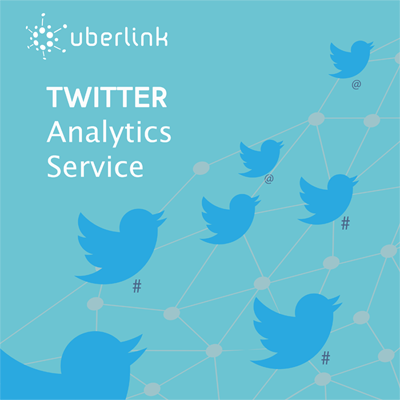 Interested in examining networks from social media?
With the Twitter Analytics Service Uberlink provides the ability to access real-time streaming data from Twitter's Enterprise API platform, GNIP, and create a variety of social networks (complete with statistics) based upon connections between Twitter users.
This rich source of data allows us to provide you with social networks formed from a query (or queries) over every single tweet that is made during a certain time period—a marked improvement over (for example) Twitter's own free access, which will return only up to 1% of all tweets (with limitations on the kinds of queries that can be made).
How it works
Setup
Submit your query
Provide us with your list of hashtags, usernames etc. that you'd like us to 'listen' for.
Lock in your volume
Specify a maximum number of Tweets per month, and the number of months to collect.
Get a quote
We provide you with a quote for that query, maximum monthly volume and duration.
Results
Getting your results
We provide social networks from users whose activity matches the query you provide.
Three networks
We provide three social networks: mention, reply and retweet.
Analysis
We also provide Social Network Analysis at both the network and the individual node level.